Stackable Chairs: Their Benefits in Your Office Space
Share
Issue Time

2022/07/14
Summary
Stacking chairs are especially useful during large events and meetings that require multiple people to sit closely together. There are many more benefits to stacking chairs, but these are some of the best reasons why people choose this type of seating for their company or organization.
Office chairs
come in many shapes and sizes, including armchairs, club chairs, guest chairs, and foot wheelchairs. Each type has its own advantages and disadvantages that you should consider before investing in office furniture for your company. Chairs can be made from different materials such as leather, fabric, plastic, or metal - although some may have additional features like armrests and headrests for added comfort and support. These extra features aren't necessary in order to enjoy the benefits that only stackable chairs can offer.
Stacking chairs, also known as stacking stools and folding stools, are useful pieces of furniture that can help increase workplace productivity and efficiency by providing employees and customers with additional seating options without taking up too much space. They are especially useful during large events and meetings that require multiple people to sit closely together. There are many more benefits to stacking chairs, but these are some of the best reasons why people choose this type of seating for their company or organization.
Easy to store
Stackable chairs are easy to store and can be tucked away when not needed. This means that if your party or meeting is over and you want to get back to normal, you can simply stack or store the chairs for the next time instead of taking them straight to a recycling center.
The chairs can be stored vertically, allowing you to use the same storage space that two chairs would normally take up when stacked. In short, stacking chairs frees up space and precious storage time. For that matter, they take up far less space than individual folding chairs or any other piece of furniture.
Rugged construction
Stacking chairs are generally very durable. They can stand in harsh conditions and in environments such as cafeterias, churches, and schools, where many chairs may sit in one place for extended periods of time. Chairs used in these environments are heavily used and often experience severe wear and tear. This makes them ideal for adults or children who may accidentally treat the chair while in use.
Did you know - while many other types of chairs are susceptible to damage over time, especially mesh chairs and their counterparts, stackable chairs are rarely damaged or unstable. Stackable chairs can often hold hundreds of pounds without breaking, making them ideal for high-traffic activities that are sure to get a lot of use. In short - stackable chairs are sturdy and will stand the test of time!
Acceptable price
Because stackable chairs are so durable, they don't need to be replaced as often as other types of chairs. This makes them an affordable option for those looking to make a long-term investment in an event or office seat.
No assembly required
While a chair may be needed occasionally, stackable chairs for more frequent use do not require assembly; the chairs can be easily moved and attached. While it may sometimes be necessary to assemble some stackable chairs, most models for more frequent use require the least effort and time in this regard.
Portability
Stacking chairs are usually made with thicker rubber handles to ensure stability when stacked. Because they don't take up much space when not in use (in most cases), leaning them against a wall or under a conference table will free up enough space for the entire movie. That being said - stacking chairs is also easier to transport.
Waterproof
Most stackable chairs are waterproof. They can be left on wet ground or in heavy rain without damage.
Great for outdoor use
As mentioned, their stacking nature makes them easy to transport, and they often have thicker rubber grips around the legs to prevent slipping even on wet grass or dirty surfaces. This is especially important for outdoor events or meeting areas.
Suitable for indoor and outdoor use
They're comfortable, easy to store, and best of all, they provide a quick way you can move from one office event to another while keeping costs down.
But before you start shopping around for your next batch of stackable chairs, there are a few things you need to know.
First, make sure your chair is suitable for your office space or work environment. Knowing the amount of space you have and the shape and size needed to fill the area will help you choose a model that suits your needs. Stacking chairs doesn't require much assembly, so the process should be smooth.
Second, find out if the company you bought from offers replacement parts for one of your chairs that could be damaged in transit or in use. Not every model does this, so it's important to ask before deciding which single piece is best for your office.
Third, you also need to make sure that the color and finish of the stackable chair will work well in any area of your office space. Since these chairs come in many different shapes and sizes, it's important to consider your unique needs before choosing the piece that's best for you.
Fourth, the material of the folding chair is also very important. Not only should it be durable enough to stand up to constant use, but you want something that will last a long time, even after being exposed to the usual wear and tear, which is the subject of furniture.
In conclusion
It's no secret that keeping employees efficient and productive is the number one priority for business owners. One way businesses achieve this is through office furniture, such as ergonomic chairs, that provide comfort and support so employees can work at their optimal level. While furniture such as plush leather executive seats look great, they tend to overlook the most important factor-functionality! Finally, stacking chairs offer several benefits not found in almost any other type of chair on the market today. Their durability and affordability make them a great choice for a variety of office events and venues, from corporate events to office parties - and everything in between!
You have learned the benefits of stacking office chairs, if you want to buy stacking office chairs, please
contact us
.
DINGYOU Office Furniture
is a professional
custom office furniture manufacturer
. It mainly produces training desks and chairs, intelligent classroom splicing desks and chairs, and can be used in schools, governments, enterprises, training institutions, and other scenarios. Every year, we insist on participating in office and school industry exhibitions, focusing on one product field and gaining more customer recognition and support. We sincerely look forward to your consultation, we are willing to be a member of your solution to your needs and achieve the win-win cooperation!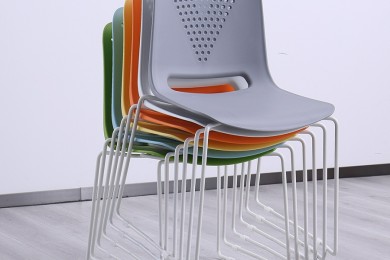 This stackable and easy-to-clean plastic chair is ideal for meeting rooms, lounges, waiting rooms, training rooms, and more.