How to Choose the Right Conference Table?
Share
Issue Time

2022/08/01
Summary
Tables are the main element of meeting room furniture, and considering the wide variety, choosing the one that best suits your needs is not easy. Here are some tips and some factors to consider in order to make the best choice.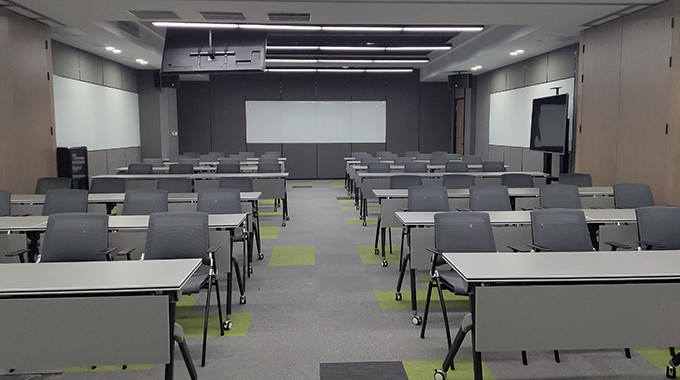 How to choose the right
conference table
? The answer to this question is critical, considering that the meeting room is a key place for strategic planning and making important decisions that affect your business.
A well-designed conference room can facilitate important discussions and can be a source of productive ideas and meetings with customers, suppliers, and employees.
Tables are the main element of meeting room furniture, and considering the wide variety, choosing the one that best suits your needs is not easy. Here are some tips and some factors to consider in order to make the best choice.
1. Room size.
The first thing you need to consider is the size of the room. Make sure there is enough space around the table for two chairs so they can be comfortably off the table and for those who need easy access to all areas of the room. Keep in mind the doors and windows of the room and make sure they are also easily accessible. You also need to consider what other functions the room has; for example, if your conference room will accommodate other furniture or audio/video stations, you will also need to consider that space.
By considering how your desk relates to other furniture in the room, you need to avoid mistakenly pairing your desk with mismatched and disproportionate chairs that may seem out of place and unrealistic. In our experience, people can cause some discomfort to guests if they choose chairs that are too large or too small for their table.
2. Number of seats.
Then determine the capacity of the room to calculate how many chairs you need. You might also consider the type of chairs planned for the conference room. This will help you visualize how many chairs to place around the table. Remember to give your guests plenty of wiggle room, even if the table is full. Remember that the minimum width space required for a conference chair is about 75cm.
3. The type of conference table.
Then choose the type of desk that best suits your future business needs, keeping in mind aspects related to comfort and efficiency. Remember that the type of conference table you have to choose ideally comes in all shapes and sizes. They must also be modular so that they can be combined in various configurations, such as horseshoe, oval, square, rectangular, etc.
Be aware that depending on the degree of flexibility you want, these tables can be divided into the following three types:
Table with folding legs
Wheeled table with flip cover
Fixed table
3.1. Table with folding legs.
Tables with folding legs are ideal for rooms with different numbers of people or different functions, such as:
Meetings;
Training courses;
Lunch or dinner;
Banquet;
Presentations;
Various events.
In fact, these tables can be easily and quickly folded, stacked, transported, and stored outside the room. These functions are especially popular in business hotels, where there are often both large function rooms and small meeting rooms.
Know that, in principle, these tables must be handled by two people.
3.2. Table on wheels with flip cover.
The tabletop on wheels can be tilted or folded vertically and can be staggered to reduce storage space. These stackable tables are often used in small to medium rooms that require some flexibility.
They have the advantage that they can be handled by one person.
3.3. Fix the table.
Fixed desks, on the other hand, do not need to be flexible and are often used in fairly static configurations and within a single room.
4. Aesthetics.
If a conference table is the first item you buy for a conference room, consider how it will affect the design of the rest of the furniture. If not, you will need to consider your existing furniture to determine which conference table is best for you.
There are single or modular tables available in different shapes: round, rectangular, square, and semi-circular.
Choose a shape that maximizes the function of the space and the impact of the look of the meeting room.
Then choose the material and color of the table. Ensure that the materials are resistant to scratches, impacts, and high-temperature liquids; they must also be easy to clean and maintain.
5. Power sources.
Your conference room will most likely use phones, laptops, microphones, and audio video stations. So consider the location of the power source and how that device will affect the functionality of the table. Without a doubt, avoiding cables, plugs, and cord tangles are preferable during important meetings.
So make sure you have a sufficient number of power sockets and USB ports for everyone at the table, as well as extra extras.
6. Price.
Finally, remember to carefully consider which conference table fits your budget. There are many options in different price ranges. Obviously, prices will vary depending on the size of the table, the materials it's made from, and whether it's part of a more or less new collection.
However, keep in mind that a nice and efficient conference room, whether for closing deals with big clients or for a casual lunch, can be a great asset to any business.
The above describes how to choose a suitable conference table. If you want to buy a conference table, please
contact us
.
DINGYOU Office Furniture
is a professional
custom training tables and chairs manufacturer
. Founded in 2004, the company mainly produces training desks and chairs, smart classroom splicing desks and chairs, and can be used in schools, governments, enterprises, training institutions, and other scenarios. Every year, we insist on participating in office and school industry exhibitions, focusing on one product field and gaining more customer recognition and support. We sincerely look forward to your consultation, we are willing to be a member of your solution to your needs and achieve the win-win cooperation!