Types of Stacking Chairs: How to Choose a Stacking Chair for Training Chairs?
Share
Issue Time

2022/11/15
Summary
A safe and comfortable stacking chair can really make your day easier and more productive. In this article, we'll discuss how to choose a good stacking chair.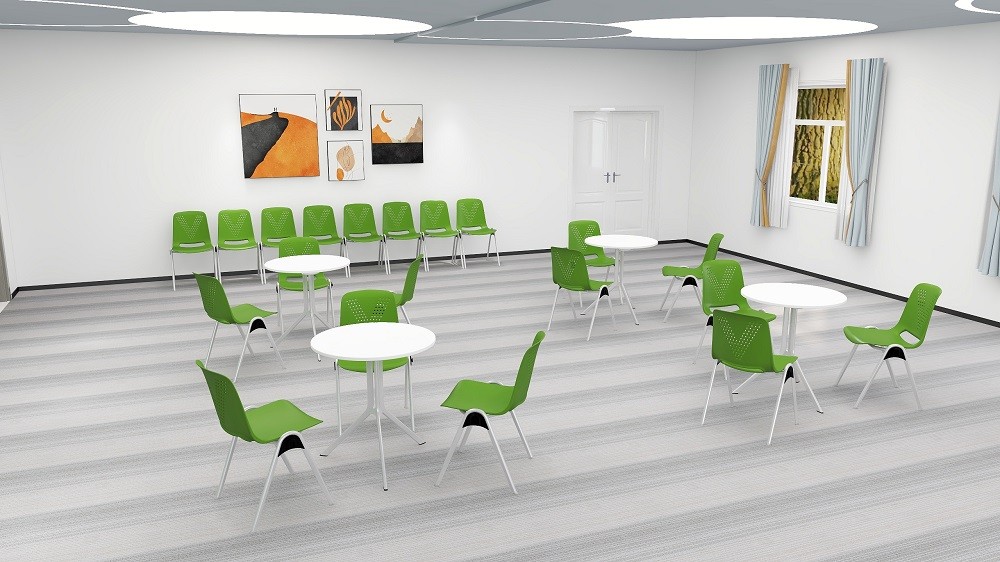 Over the past few decades, we have witnessed a surge in demand for flexible, multipurpose, and multifunctional workspaces. Different types of
stacking chairs
become popular choices when we are designing multifunctional offices.
A well-designed, safe and comfortable stacking chair can really make your day easier, increase productivity and keep customers coming back. In this article, we'll discuss how to choose a good stacking chair.
Why Stacking Chairs Are Essential for Training Rooms
A stacking chair is a temporary seat that can be stacked closely together for easy transport and storage. They provide excellent flexibility and convenient storage space for training rooms. Here are the main benefits of stacking chairs:
Cost-Effective:
Most stacking chairs are made of plastic, which is cheaper and generally less brittle. Their four strong legs allow for continuous movement, movement, and stacking. Therefore, it is more durable and cost-effective than other types of chairs.
Easy to Maintain:
Unlike wooden chairs and rusted metal chairs, which can develop cracks, plastic chairs are generally waterproof and require little maintenance. They require minimal cleaning and can be used both indoors and outdoors.
Save Space:
A big reason to choose to stack chairs as an office essential is that they can free up some space quickly.
Stacking chairs can be stacked in a trolley and moved around the room. They are usually stored in a closet or corner of the room before and after events to create the proper space.
How to Choose Different Types of Stacking Chairs As Office Chairs?
Stacking chairs are the best seating option for multipurpose offices. With the increasing demand for stacking chairs, there are more and more varieties of stacking chairs. Choosing the right stacking chair for your training room can be very frustrating.
To simplify the decision-making process, let's focus on the two most important aspects: functionality and features.
Function:
Short or Long-Term Seat
The amount of time you spend in a folding chair depends on the purpose of your activity. If you need to work at a fixed desk all day, a task chair or an upholstered stacking chair may be the best choice. Conversely, if the chairs are to be used for impromptu gatherings such as meetings, conferences, seminars, or banquets, then stackable chairs will be the best choice.
Public Area or Private Use
In any common area where conversations between users are short and temporary, movable and stackable chairs would be a good choice. Flexible seating is essential in high-traffic common areas such as employee canteens, as it allows employees to relax and socialize during the longest breaks of the day.
Feature
Sturdy Material:
Stacking chairs should be durable enough to sustain frequent stacking and accommodate people of all sizes. Plastic resin seats are the best choice because they are impact resistant and require less maintenance. Additionally, the resin prevents the growth of germs and bacteria while providing an easy-to-clean surface to simplify care and maintenance.
Seat Width and Depth
The seat of any office chair should be wide and deep enough to support your body comfortably. Seat depth is measured from the front to the back of the seat. It needs to be large enough so that you can sit comfortably on the back of the chair. You should be able to distribute your weight evenly on the seat.
Lumbar and Back Support
Lumbar support or lumbar support is essential to a good stacking chair. The human lumbar spine has an inward curve that flattens out when we bend down.
Not having the right lumbar support can weaken our lower spinal structures. The best stacking chairs have a lumbar adjustment to support our lower spine and keep us in good, healthy posture for hours.
Linkage Chair Sliding
Linked chair slides are designed to connect chairs for easy movement and seating. Stacking chairs can be attached with bottom or side rails for a straight, neat roll. These glides also prevent the chair from moving around and damaging the floor surface.
The above briefly introduces the importance of stacking chairs for training rooms and how to choose to stack chairs for your training room. If you want to buy stacking chairs, please
contact us
.
DINGYOU Office Furniture is a professional
custom office furniture manufacturer
. It mainly produces training desks and chairs, and smart classroom splicing desks and chairs, which can be used in schools, governments, enterprises, training institutions, and other scenarios. Every year, we insist on participating in office and school industry exhibitions, focusing on one product field, and gaining more customer recognition and support. We sincerely look forward to your consultation, and we are willing to be one of your members to solve your needs and achieve win-win cooperation!