What Features Should You Be Looking for in a Folding Training Table?
Share
Issue Time

2022/11/25
Summary
Folding training desks may look similar, but there are a few important things that set the desk apart. Here are the important things to look out for before buying a folding training table.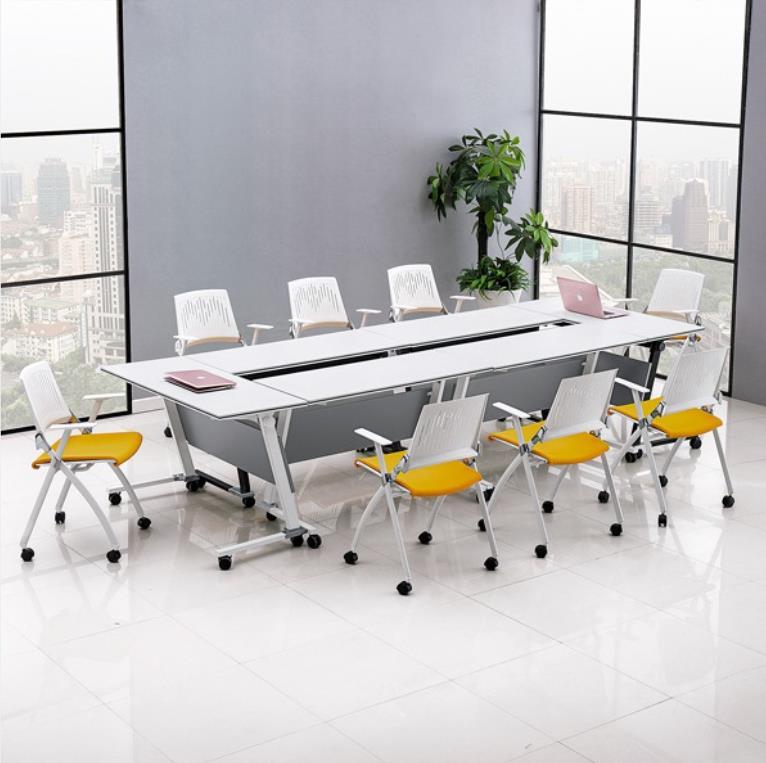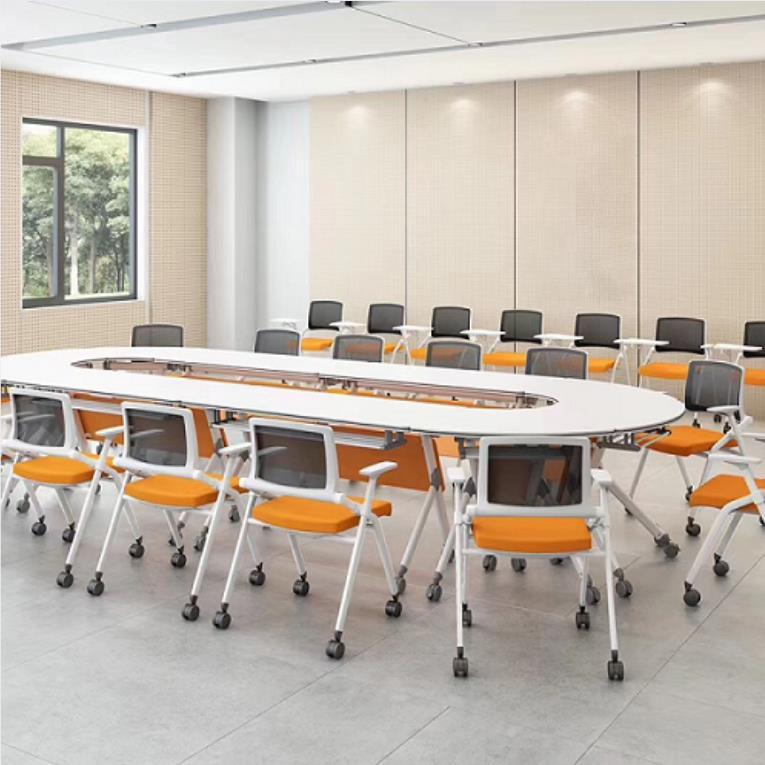 Folding training tables
may look similar, but there are a few important things that set the table apart. The materials used to construct a folding table have a big impact on the durability and longevity of the table.
Here are the important things to look out for before buying a folding training table.
Desktop Material
Tabletops made from particleboard will not stand up to heavy use and may only last a year before needing to be replaced. Tables made with MFC eco-friendly double-sided panels last 10 to 15 times longer.
Leg Shape
Look for tables with sturdy leg designs that include a unit that bolts to the bottom of the table rather than wood screws. Folding tables are designed to be easy to install and remove, and you need to be able to withstand the constant folding and unfolding of the table legs.
Look for scratch-resistant powder-coated steel or aluminum legs. The legs should be folded compactly to the frame for easy storage. Another good feature to look for is the snap-lock folding design that provides stability without the use of extra clips or parts.
Countertop Weight
Look for table manufacturers that clearly state the weight of each table model and size so you can choose the best table for your facility. Safety and liability can become an issue if the table is too heavy to set up and move easily. Finding a table with a good cart option that's easy to load and move can go a long way.
Easy to Maintain
Buy a table with a sturdy surface that resists stains and scratches. To some extent, it should also be able to withstand contact with hot objects. Most importantly, surfaces should be easy to clean and disinfect.
A high-quality linen-free table can be wiped down between uses with an ordinary disinfecting spray and wipes. Look for tables with seamless tops, as they are easy to maintain and keep clean.
Reliability and Testing
A good watch will go through strict protocols to test its durability in various scenarios. These include the ability to withstand repeated drops on the edge of a tabletop and rolling over rough surfaces. These tests are designed to ensure durability and reduce cost of ownership over time.
Lifetime Warranty
Reputable manufacturers back their products with solid warranties. Durable folding tables are warranted for a minimum of 3 to 15 years, or longer, depending on the style of the table.
Cheaper blow-molded plastic and particleboard tables may need to be replaced annually.
Custom Options
Find tables in a variety of shapes and sizes to meet your unique needs. Options with adjustable heights, different widths, and different lengths are ideal. Also, look for a variety of colors and material options for the tabletop and legs.
Cart Options
You may have unique storage and cart needs. Consider the width of your doorway and storage area, and check out suppliers that offer a variety of trolley options to help you get the most out of your facility.
Look for carts that are easy to load and unload and easy to maneuver around corners when loaded.
Dingyou Office Furniture Folding Training Table Options
When it comes to folding tables, you may find it worthwhile to buy a more expensive but higher-quality table. Over time, tables must be replaced year after year. Not to mention how much labor cost and liability can be saved by having a table that is safe and easy to install and remove. If you want to buy a folding table, please
contact us
.
Dingyou Office Furniture is a professional
custom training desks and chairs manufacturer
. It mainly produces training desks and chairs, smart classroom splicing desks and chairs, which can be used in schools, governments, enterprises, training institutions, and other scenarios. Every year, we insist on participating in office and school industry exhibitions, focusing on one product field, and gaining more customer recognition and support. We sincerely look forward to your consultation, and we are willing to be one of your members to solve your needs and achieve win-win cooperation!