The Complete Guide to Folding Tables
Share
Issue Time

2023/02/16
Summary
There are many options for folding tables. So if you want to make sure you're buying the perfect folding desk for your workplace, read on for the complete guide to folding desks below.
If you're looking for a table that can be easily stored and moved around, then you'll want to buy a folding table. But, surprisingly, there are more options than many realize. So if you want to make sure you're buying the perfect folding desk for your workplace, read on for the complete guide to folding desks below.
What is a Folding Table?
At present, there are mainly three types of folding tables on the market:
Folding Table with Folding Legs
These are the type of tables you'll typically see at public events and functions, as they tend to be lightweight and can be moved and stored easily.
In many cases, these types of folding tables can be stacked together on purpose-built carts for easy bulk movement and storage.
Folding tables with folding legs tend to be mainly used for events, and their large tops are perfect for spreading out brochures or items for sale, for example. However, they can also be used for seated work and dining.
In other words, these are the classic folding tables you'll see at summer fairs, job fairs, student open houses, and more.
Still, a new generation of folding-leg tables has been designed to compete with traditional fixed-leg tables in terms of sturdiness and quality.
One of the other main types of folding tables is the one with the top folded down. The legs remain in an upright position and often have casters so the table can be rolled out of the way when not in use.
These types of folding tables are also known as 'clamshell tables' and are often found in more permanent settings such as conference and training centers, schools, colleges, and offices.
That's because this type of folding table is stronger -- similar to a regular desk or table -- but offers the added convenience of folding the top.
Flip tables cannot be stacked like folding tables with folding legs, but they can nest together to maximize your available storage space.
Collapsible Folding Table
There are also folding tables, where both the legs and the top can be folded away. These are often referred to as collapsible tables, bar tables, exam tables, or gaming tables.
They are often combined with one or two chairs to provide an impromptu dining or work area (such as an exam table). However, they are not as important as flip tables.
Like folding tables and folding legs, folding tables can often be stacked together on purpose-built trolleys to make them highly mobile and storable.
What Are the Parts of the Folding Table?
As you might expect, folding tables share many components with standard fixed-leg tables but do have some unique features due to their folding nature.
While every folding table is different, in general, you can expect a folding table to have:
A desktop.
Legs.
Folding mechanism.
Foot covers.
Some other features you'll occasionally find on folding tables include:
Brackets – These are used to provide extra strength to the legs of the table.
Aprons – These are the sections of material that sit horizontally under the tabletop, joining each corner. They provide additional torsional strength to the table.
Links - These are usually tabs that allow folding tables to be attached (these are sometimes standard or optional extras, depending on the table you choose).
Do I Need a Folding Table?
One of the most common questions we get from our clients is whether a folding table is right for them and their venue/public building.
After all, it's perfectly possible to buy standard tables that can be nested or spirally stacked.
While these tables are very functional and useful, it often makes sense to purchase a folding table if you plan to move and store the table on a regular basis.
Of course, the main problem to be solved is storage. Folding tables (regardless of the variety) are always the best option if you have limited space for table storage.
That's why folding tables have become so popular in recent years in a variety of different buildings and facilities, from church halls and meeting spaces to offices and higher education institutions.
What Are the Advantages of Folding Tables?
Folding tables have a number of distinct advantages over other types of tables. Don't get us wrong, we're not saying they're always the best option, but if the benefits below resonate with you, they might be a good choice for you.
Folding Table Creates Extra Space
If you want to create a multifunctional space, folding tables can help you.
Compare them to traditional fixed-leg desks. When these are not in use, they take up a lot of space and prevent the room from being used for other purposes.
Folding tables change that dynamic, and they can be removed and stored fairly quickly - much faster than fixed-leg tables.
Folding tables can also help you create extra space for multiple uses. If you buy two sets of folding tables in different shapes and sizes, you'll be able to do more with your space.
Folding Table is Easy to Move, Store, and Use
By their very nature, folding tables are easier to move, store, and use—especially when compared to traditional fixed-leg tables (which also tend to be much lighter than fixed-leg tables).
Since folding tables can be folded down to a smaller size, they are easier to hold and move around; they are not as "bulky" as fixed-leg tables.
Folding tables are also very easy to deploy, with most models "unfolding" in less than a minute (or faster!).
Folding Tables Are Perfect for Flexible Workspaces
If you run or work for a business that regularly uses freelancers or temporary workers, for example, if the business often expands to accommodate new projects, a folding table is a perfect way to create a flexible workspace.
When needed, they can be deployed to provide additional desk space. When not needed, they are easily stashed away for future use!
The above briefly introduces the types and benefits of folding tables. If you want to buy folding tables, please
contact us
.
Dingyou Office Furniture is a professional
custom training desks and chairs manufacturer
. It mainly produces training desks and chairs, and smart classroom splicing desks and chairs, which can be applied to schools, governments, enterprises, training institutions, and other scenarios. Persist in participating in office and school industry exhibitions every year, focus on one product field, and gain more recognition and support from customers. We sincerely look forward to your consultation, we are willing to be a member of you, solve your needs, and achieve the win-win cooperation!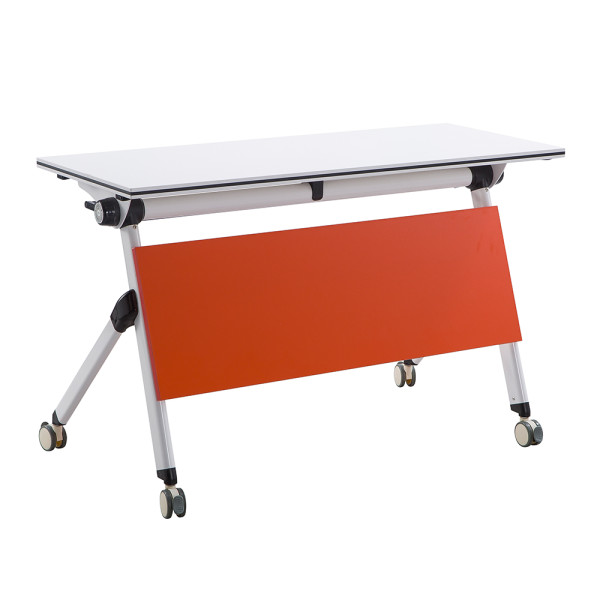 The splicing table can be used not only in schools, but also in conference rooms, training rooms and other spaces.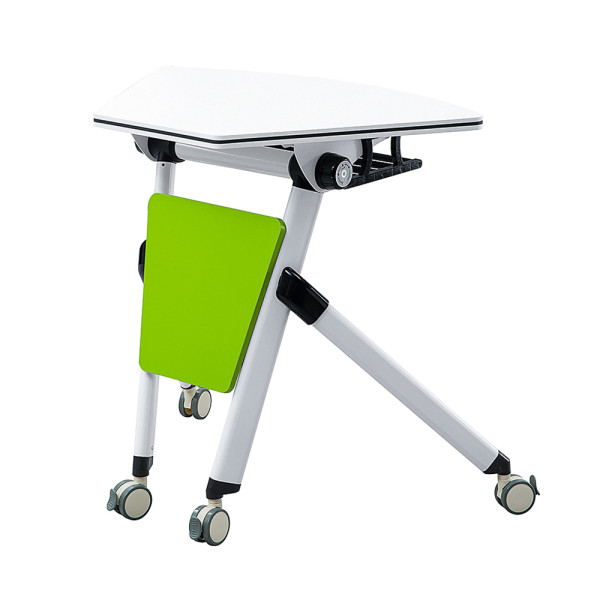 The folding fan-shaped table can not only be used as a single seat, but also can be spliced into a circle for discussion.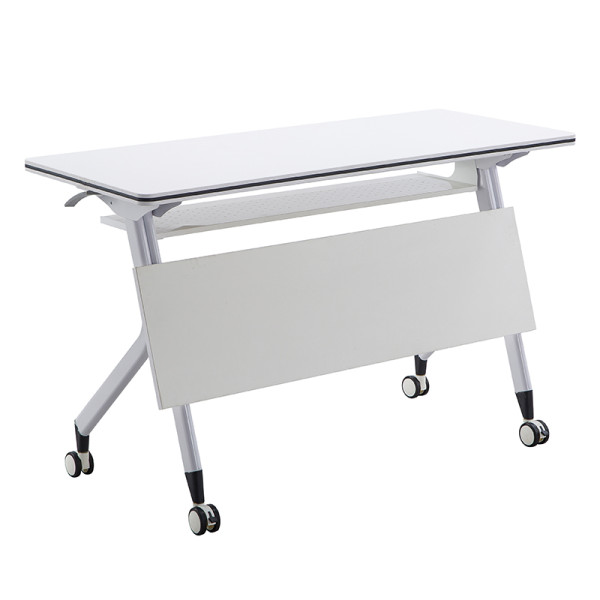 D05 model folding table, can be used in conference rooms, staff training, schools and other scenarios.