How Training Desks Can Benefit Employee Learning
Share
Issue Time

2023/02/27
Summary
Training tables provide a place for employees to take notes, complete activities, conduct research or take tests during training. Read on to learn how a training desk can benefit employee learning.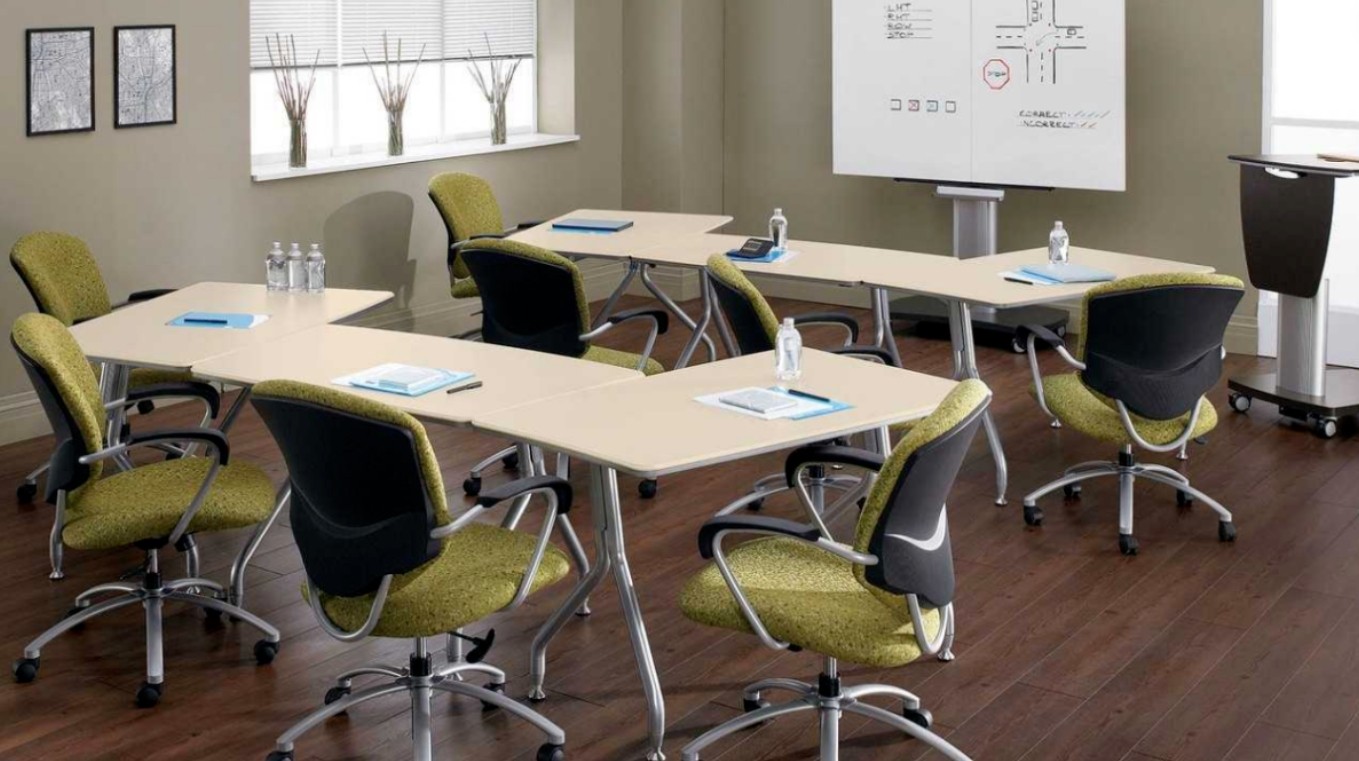 Training tables provide a place for employees to take notes, complete activities, conduct research or take tests during training. Training tables work well as dual-purpose conference tables. However, they are best suited for layouts in learning environments.
You can line up these slender rectangular tables for a training room setting, similar to a college lecture. To facilitate discussion, some trainers like to arrange them in a U shape, facing the front of the room. These tables also come in round or square shapes to create a sense of equality in discussion-based learning.
No matter how you arrange the tables or what technology you use for training, the training room furniture should reflect how you want your employees/students to interact with the material, the instructor, and each other.
Why Consider a Trainer?
Well-designed training often increases employee engagement, satisfaction, and retention through career growth. Additionally, the training table adds value by inviting trainees to engage with the material presented. In many settings, rows of chairs simply won't work. Training often involves note-taking, worksheets, online activities, or quizzes. Many training desk manufacturers offer versions that feature power and digital cables to further accommodate these activities. The more effort and effort you put into employee training, the more employees will benefit from it.
Folding Table
These are one of the most portable options for conference rooms or training rooms. They are useful in multipurpose spaces that are often used for other events within the company. For these types of tables, it is best to have a place for storage in a boardroom or conference room.
Flip Table
This is another great hybrid solution for training in a multipurpose room. They usually have wheels on the bottom. That way, after flipping the tops from horizontal to vertical for storage, you can easily roll them into the next position.
Adjustable Height Training Table
If the training is extensive, employees may need desktop features that make long meetings more comfortable. The height-adjustable training table can be set up in a stadium-style configuration. This ensures that everyone in the room has a clear view of the presenter.
More Training Room Furniture and Amenities Need to Be Considered
You can invite instructors or speakers to train employees in your conference room. In this case, you should consider other amenities that can add value to your space. Not every training room requires the same setup, so consider what is most needed to optimize employee training.
Training Room Desk
A training room table may be helpful for presenters who need an extra workspace surface to get work done. Training tables are usually very simple, with a basic work surface and little storage space. Some training rooms may simply use laptop carts instead.
Training Chair
Tables are only half of the equation. When it comes time to conduct a long training session or meeting, attendees should have comfortable chairs to minimize distractions. One of the best options for multipurpose rooms is stackable and folding chairs. These usually have wheels and are stacked together horizontally or vertically for more efficient storage.
Lectern
These can provide a standing room for lecturers while providing a place for paperwork or other supplies. Traditional lecterns are heavy and wooden, but many modern lecterns are more adaptable and lighter.
AV Cart
The mobile AV equipment rack holds items such as projectors, laptops, and televisions. Due to the technical nature of sharing information with groups, your training room may require an AV cart. Choose a product that has all the necessary connections so presenters don't have to scramble for wires and adapters before their presentation.
Microphone
If your training is primarily virtual, a microphone built into the training table can help facilitate clear communication without technical issues. They are also useful in multipurpose spaces used as conference or boardrooms.
Whiteboard
Not all training requires a fancy audio-visual setup. Whiteboards are the cheapest way to visualize, brainstorm, and communicate with your team.
Choose the right workstation for your company
The training table provided by DINGYOU Office Furniture is designed to effectively help employees become more energetic and satisfied employees. No matter what style, shape, or size you need, DINGYOU Office Furniture has the right training table for your company. If you want to buy training tables and chairs, please
contact us
.
DINGYOU Office Furniture is a professional
custom office furniture manufacturer
. It mainly produces training desks and chairs, and smart classroom splicing desks and chairs, which can be applied to schools, governments, enterprises, training institutions, and other scenarios. Persist in participating in office and school industry exhibitions every year, focus on one product field and gain more recognition and support from customers. We sincerely look forward to your consultation, we are willing to be a member of you, solve your needs, and achieve the win-win cooperation!