Folding Conference Tables Buying Guide
Share
Issue Time

2023/03/23
Summary
A high-quality folding conference table can make training more efficient. If you're looking to shop for the perfect folding conference table for your particular setting, start by reading our guide.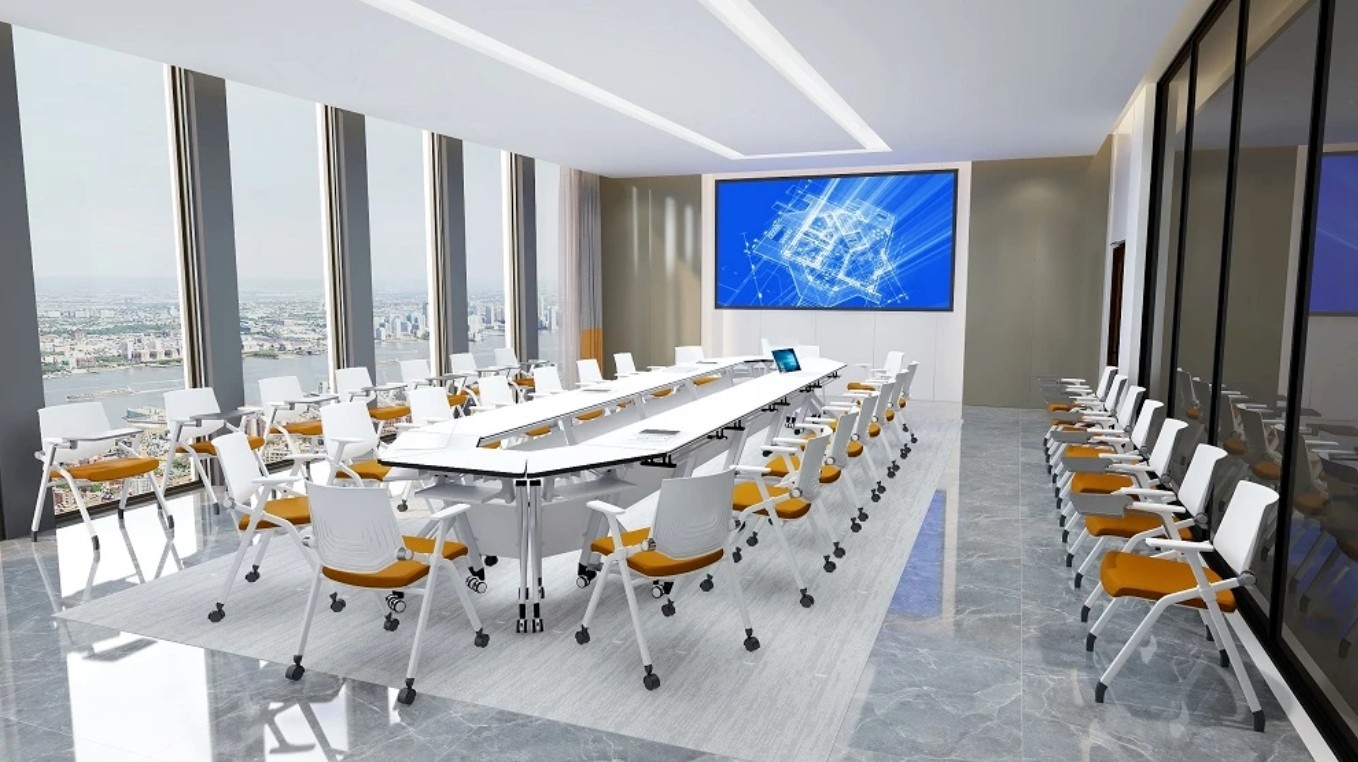 No meeting or training space is complete without a high-quality, sturdy folding conference table. However, there are many things to consider when shopping for the right folding conference table for your training room. If you want to make sure you're buying the perfect folding conference table for your particular setting, start by reading our guide.
A folding conference table is a specially designed table that can be quickly folded up when needed to save space. Typically, such a table is composed of two or more foldable sections, allowing it to be easily transformed from a full-length table to a compact short table. Folding conference tables are usually used on occasions where the layout of conference rooms needs to be changed frequently, such as offices, conference centers, and classrooms. In addition, folding conference tables are often used in conjunction with other furniture sets, such as chairs and screens, for more complete functionality and comfort.
What Are the Benefits of a Folding Conference Table?
They save space. This means you can quickly set up an impromptu meeting space when you need it, then fold it away when you don't.
The folding conference table is very convenient to carry. You can easily take them to different locations, such as meeting rooms, exhibition halls, and school classrooms.
Folding conference tables can also improve meeting organization and management. Because you can adjust the layout and arrangement of the table according to your needs.
Folding conference tables can also make your office or conference room look tidier and more refined.
What Factors Need to Be Considered When Purchasing a Folding Conference Table?
Purchasing a suitable folding conference table can ensure that your meeting room or training room has the best functionality and practicality, so as to improve work efficiency and look more professional and modern. Here are the factors to consider when purchasing a folding conference table.
Appearance and Style: Folding conference tables come in a variety of looks and styles, including modern, traditional, and industrial, among others. You should choose a table that fits the decor of your training room or conference room.
Material and Quality: Folding meetings can be made of a variety of materials including wood, metal, plastic, etc. You should choose good quality and durable materials.
MFC environmentally friendly double-panel is a high-quality material suitable for training folding tables. It has many advantages such as environmental protection, durability, easy cleaning, lightweight, stable shape, etc., and can provide users with a healthy, safe, and comfortable use environment. The training folding table made of MFC eco-friendly double panels is not only of high quality and long service life but also has a beautiful appearance, which can add a modern and professional look to the office or classroom.
Size and Shape: You should consider the size and shape of the table you need to suit the layout of your office or conference room. Some folding conference tables can also expand the table top by adding extension boards.
Adjustability: Some folding conference tables have adjustable height and tilt angle, which can provide more flexibility and comfort.
Storage Space: Choosing a folding conference table with storage space can conveniently place documents, stationery and other items under the table.
Price and Warranty: Finally, you should consider price and warranty issues. Choose a folding conference table within your budget and see if the supplier offers a warranty.
Why buy Folding Conference Table from DINGYOU Office Furniture?
There are many benefits to the folding meeting table from DINGYOU Office Furniture. First, they are versatile and can be used for different types of meetings and events. Second, they are easy to fold and store, allowing them to be conveniently stored away when needed. These tables are usually made of high-quality materials that are durable and easy to clean. Purchasing a folding conference table from DINGYOU Office Furniture can improve your work efficiency, save space and cost, and make your working environment more convenient and comfortable. If you are looking for training tables and chairs, welcome to
contact us
.
DINGYOU Office Furniture is a professional
custom office furniture manufacturer
. It mainly produces training desks and chairs, and smart classroom splicing desks and chairs, which can be applied to schools, governments, enterprises, training institutions, and other scenarios. Persist in participating in office and school industry exhibitions every year, focus on one product field, and gain more recognition and support from customers. We sincerely look forward to your consultation, we would like to be a member of you to solve your needs and achieve win-win cooperation!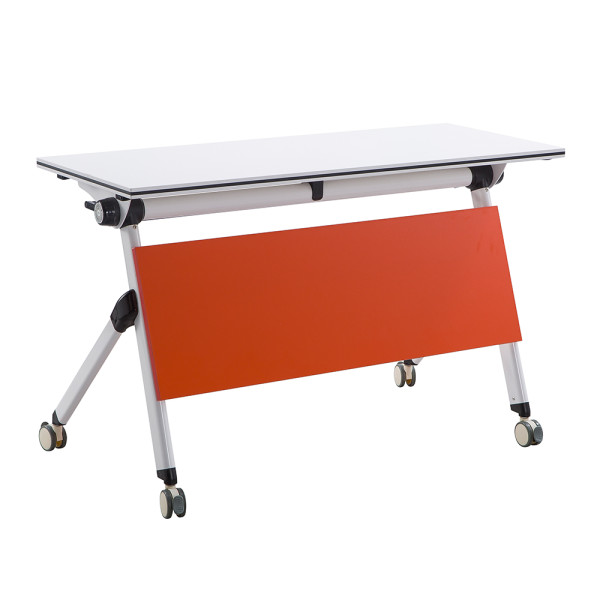 The splicing table can be used not only in schools, but also in conference rooms, training rooms and other spaces.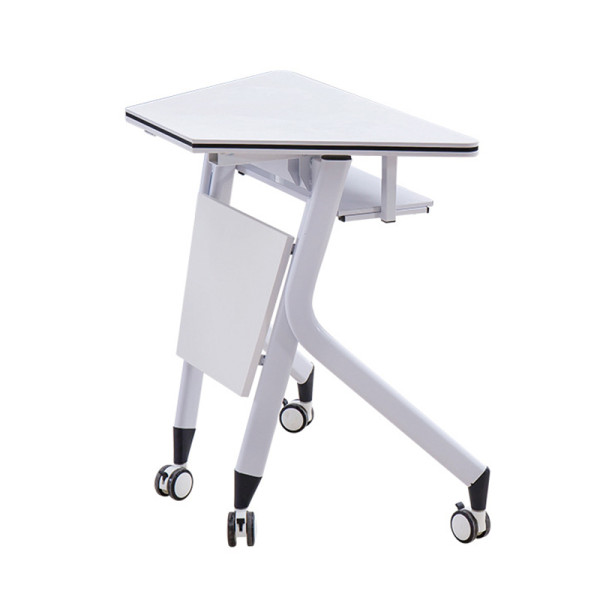 D05 model foldable table, can be used as a single person, but also can be spliced into a circle, into a group of six people.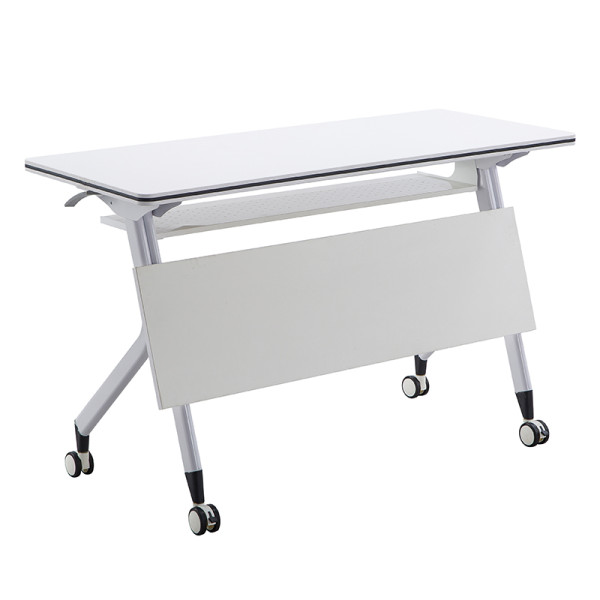 D05 model folding table, can be used in conference rooms, staff training, schools and other scenarios.