Why All Meeting or Training Rooms Should Consider Folding Tables
Share
Issue Time

2023/03/31
Summary
Conference or training rooms around the world have made changes to create a safer environment. However, the problem is often on the table. The following is an introduction to the benefits of folding tables in conference rooms.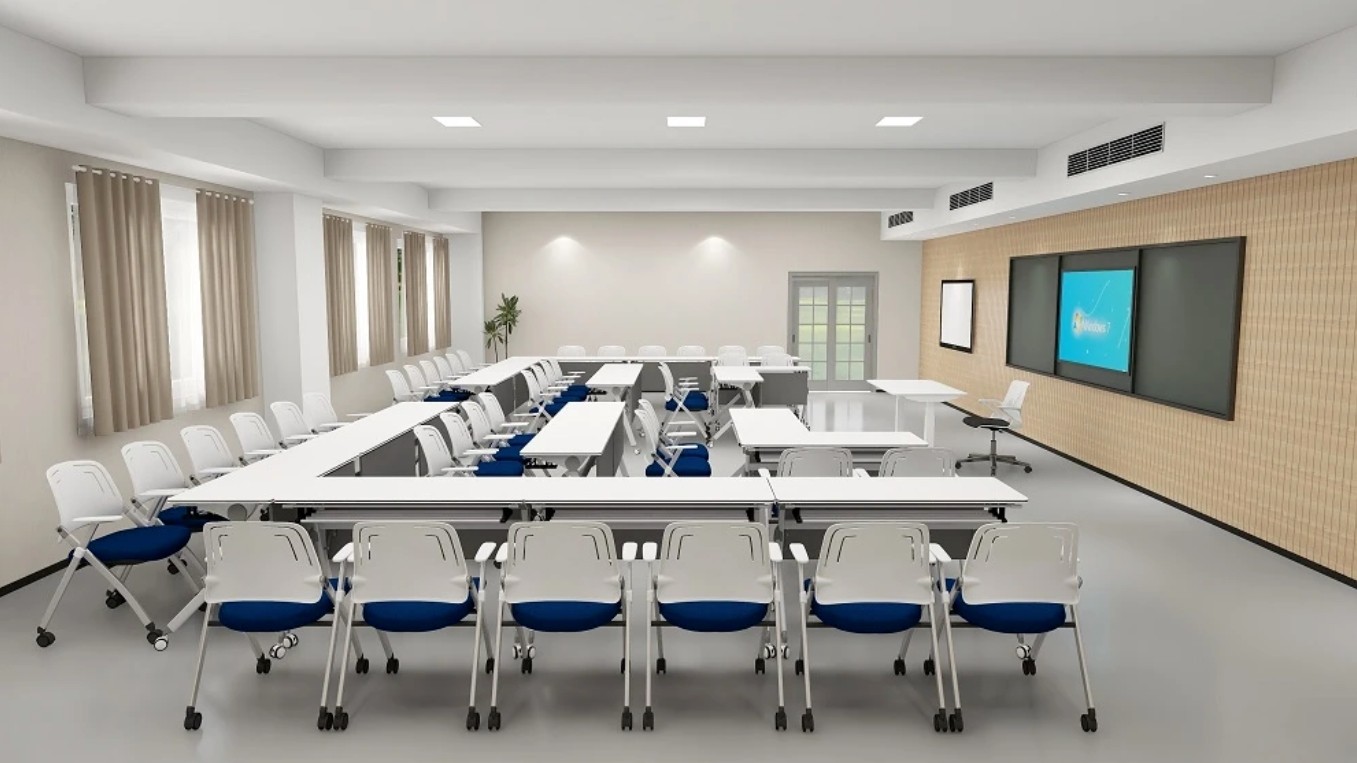 Conference or training rooms around the world are making changes to create a safer environment, but are they making the right changes for a long-term solution?
Businesses focus on introducing screens, moving chairs back to back, and introducing one-way systems to provide security. However, the problem is often on the table.
The Benefits of Folding Tables in Conference Rooms over Fixed Table Legs
Fixed table legs take up too much space, especially when not in use. Most conference rooms will have tables with fixed legs, and the conference room layout depends on how you fit them all in. You don't want to pay for storage in order to free up extra space, so your options are pretty limited.
Folding meeting or training tables can be easily folded away when not in use and can be moved neatly to the side, creating more room for employees to move around safely.
Easy to Move
Tables with fixed legs usually require two people to move them back and forth, or you risk leaving permanent drag marks on the floor. The folding table is easy to fold and can be lifted by one person after folding.
Store when the Table is Not Needed
How to store a table with fixed legs? They don't usually stack, except remove them, which is not something you want to do regularly. Folding tables fold and move with little effort. Plus, you can place multiple desks neatly against the wall, away from frequently used areas. If your needs are larger, you can purchase a cart that holds up to 8 folding tables for effortless storage and mobility.
Flexible Meeting Room
With the vast majority of employees looking to split their time between work and meetings, it doesn't make sense to leave conference tables empty half the time and take up much-needed space. With a folding table, you can simply fold it away for storage when not in use, providing more space for people in a meeting room or training room to maintain social distance.
Scale Up or Down Your Business
No matter the company, your business may expand or contract rapidly, and you may need more or fewer tables. You can even relocate your office to reduce overhead or gain more space. With folding tables, whether capacity increases or decreases, you have the option to provide an instant solution without having to think about buying a new table or wondering what to do with the one you no longer have room for.
What to Do with Unused Chairs?
Folding tables are a great way to accommodate your changing meeting requirements, but if you have chairs with casters, you may have similar problems. Desk chairs with casters have several advantages, but when you have more chairs than people or tables, you'll find yourself moving them out of the way a lot. Office stacking chairs may not appeal to everyone in the office environment. However, it is another flexible office solution that creates space for a workstation without storage or additional costs becoming an issue.
Reduce Costs and Waste
Offices that are downsizing will be looking for ways to save on overhead, so storing unneeded furniture is a cost they want to avoid. To save on these extra costs, some people simply dispose of old furniture, adding unnecessary waste to an already overflowing landfill.
Around 1.2 million desks and 1.8 million office chairs are thrown away in the UK every year. Folding desks will eliminate this decision as they take up much less space when folded and thus can be stored in the office. This will save money on storing unused furniture and protect the environment
Overall, folding tables and stacking chairs tick many boxes when considering new office furniture purchases for flexible, cost-effective solutions to meet your business needs. If you are looking for folding office chairs, welcome to
contact us
.
Dingyou Office Furniture is a professional
custom training tables and chairs manufacturer
. It mainly produces training desks and chairs, and smart classroom splicing desks and chairs, which can be applied to schools, governments, enterprises, training institutions, and other scenarios. Persist in participating in office and school industry exhibitions every year, focus on one product field, and gain more recognition and support from customers. We sincerely look forward to your consultation, we are willing to be a member of you, to solve your needs for you, and to achieve the win-win cooperation!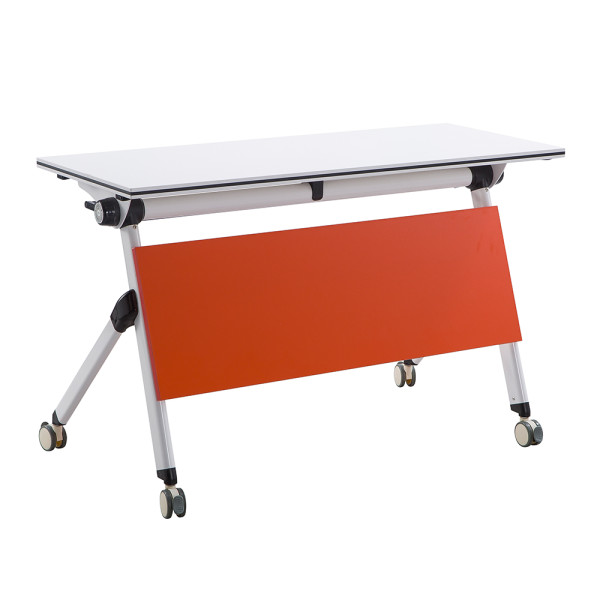 The splicing table can be used not only in schools, but also in conference rooms, training rooms and other spaces.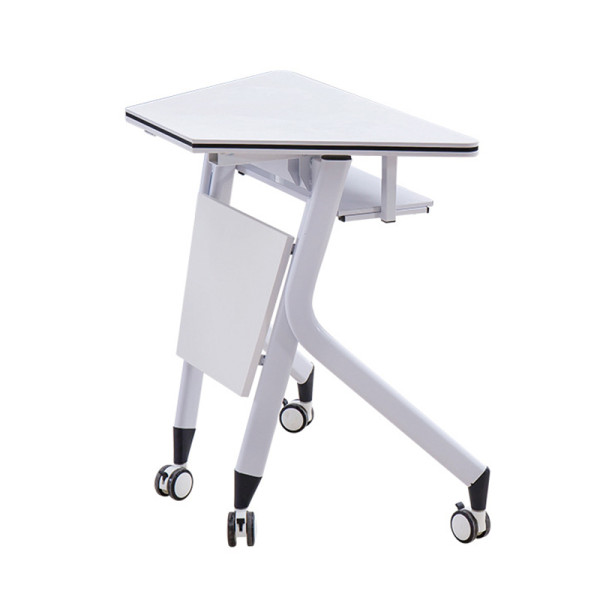 D05 model foldable table, can be used as a single person, but also can be spliced into a circle, into a group of six people.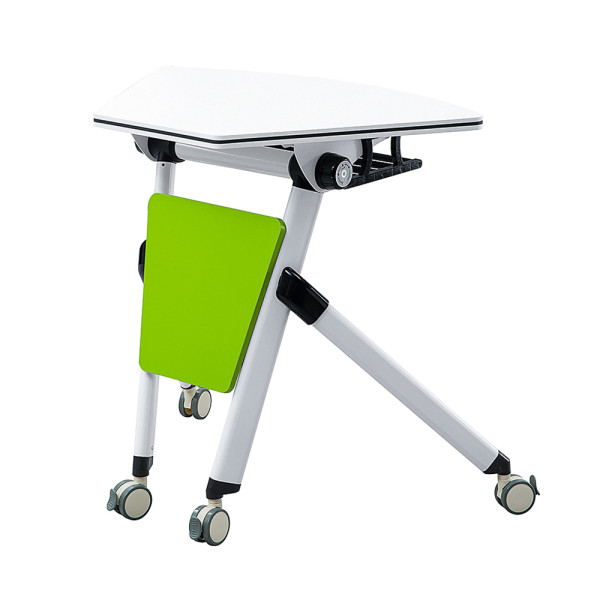 The folding fan-shaped table can not only be used as a single seat, but also can be spliced into a circle for discussion.