How to Set Up a Folding Conference Table?
Share
Issue Time

2023/04/08
Summary
Modular conference tables are a good choice for companies, schools, and universities because flexible meeting and study environments can be easily set up. Read on to learn how to set up a modular table.
Before we get started, we want to explain modular tables because most conference tables are modular. This means that
folding conference tables
can be separated and joined together to create multiple layouts, depending on how many people would typically use them in a multi-purpose space. Modular tables are usually lightweight and durable, and some are designed with storage in mind so they can be folded or stacked.
Modular conference tables are a good choice for companies, schools, and universities, as flexible meeting and study environments can be set up easily, even on short notice.
While most modular tables are rectangular, there are a few that are irregularly shaped, and when put together they can create some really interesting and attractive layouts.
How to Arrange a Modular Table?
You may already be familiar with some common layouts for modular tables, but here are some of the most common modular table layouts:
1. Conference Room Style

This is a typical conference room layout; all four tables are pushed together to form a rectangle, providing each user with enough desk space and plenty of legroom. Semicircular or trapezoidal tables can be added at each end to create a larger "oval" or "racetrack" layout.
2. U-shaped or Horseshoe-shaped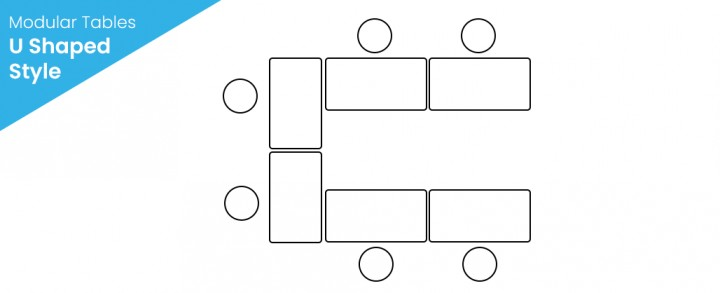 This layout consists of many U-shaped tables with conference chairs on the outside. This layout is used for presentations, video conferencing, and training sessions, where the instructor can walk around the U-shaped space, keeping everyone involved.
3. Classroom Style

Familiar layout, we sat in a row facing the teacher or lecturer, in other cases the tables were divided with 2 people sitting side by side at each table. The large 1800mm (approximately 6ft) table seats 3 people. The classroom layout is good for study and discussion.
4.Banquet Style

As the name suggests, the banquet style is used for dining, but it can also be used effectively for conferences and conferences. Delegates can easily break up into small groups of usually 4-8 for group discussions and team-building exercises.
The above introduces the arrangement of several modular conference tables. If you want to buy a folding conference table, please
contact us
.
DINGYOU Office Furniture is a professional
custom office furniture manufacturer
. It mainly produces training desks and chairs, and smart classroom splicing desks and chairs, which can be applied to schools, governments, enterprises, training institutions, and other scenarios. Persist in participating in office and school industry exhibitions every year, focus on one product field, and gain more recognition and support from customers.