Your Meeting Room Usage Determines Meeting Room Furniture
Share
Issue Time

2023/04/21
Summary
The layout of a conference room can affect active participation, listening habits, and even learning potential. Here are a few examples of how conference room furniture and layout can improve your performance.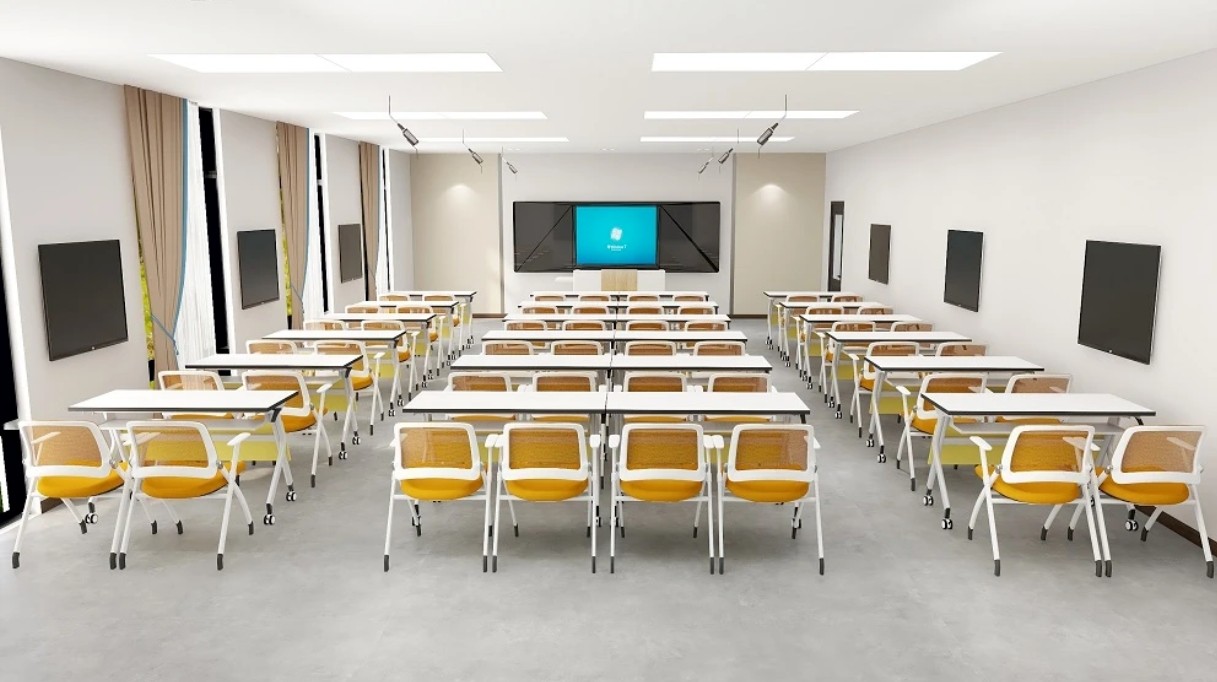 Many people overlook the importance of conference room layout. The layout of a conference room can affect active participation, listening habits, and even learning potential. Here are 4 examples of how conference room furniture and layout can improve your performance.
Meeting Room
There should be a conference room set up for executive meetings and committee meetings. The conference table should be in the center of the room, or use our collapsible conference table, which is customizable so it can be adjusted to the size and layout of the conference room, ensuring everyone can sit comfortably at the table. The foldable conference table has wheels, which means you can easily move the table to different positions to suit the needs of the conference room. In addition, the table can be folded, making storage and transport more convenient.
Finally, the design of the table makes the meeting room look more modern and professional, creating a more formal atmosphere for your meetings. This allows attendees to comfortably talk to each other. In these situations, movable, foldable tables tend to work well. DINGYOU's foldable conference table can meet your various needs.
Training
If the meeting room is used for training purposes, the setup is critical. You want your employees to feel comfortable at all times. Accomplish this with chairs that allow people to manually adjust the height and back, such as our
ergonomic back office chair
, an executive mid-back chair with a variety of manual adjustments and chair functions to support a wide variety of body sizes and work functions. This chair is designed to provide comfortable support for those who spend more than half a day at a desk or computer. Choose a conference table that provides enough space for each server to take notes, use a laptop or receive handouts.
There are also folding training chairs, which are also widely used in office training. The folding training chair has a folding table so that students can conveniently write notes or place tools such as laptops, which improves the efficiency and convenience of learning. Plus, the chairs can be easily stacked and stored, making it easy to clean and organize the classroom when needed. It is the first choice for training room furniture.
Discussion Groups
Participation is critical to the success of a discussion group. The layout of your room can greatly determine this. This design of folding conference tables and folding
training chairs
makes the arrangement of conference rooms more flexible, and the position and quantity of tables and chairs can be quickly adjusted according to needs to meet the needs of different types of discussion groups and meetings. Secondly, the folding design makes the tables and chairs very easy to store and move, which can save space and facilitate cleaning, but also can easily store them in one place after the meeting. In addition, the folding training tables and chairs also have the characteristics of stable structure and high strength, which can support people of various sizes, ensuring stability and safety during discussion groups and meetings.
Presentations
During a presentation, the chair is the most important aspect. You want simple chairs. You want the audience to focus on the speaker and not interfere with the chairman's functions. Find a chair that's made of comfortable fabric but doesn't have adjustment features, like DINGYOU's Folding Training Chair. This mid-back task chair is ergonomically designed to support you as you move and move without using complicated manual adjustments.
As a professional
custom training furniture manufacturer
, Dingyou Furniture mainly produces training tables and chairs, mainly splicing tables and chairs for smart classrooms, which can be applied to schools, governments, enterprises, training institutions and other scenarios. Persist in participating in office and school industry exhibitions every year, focus on products in a certain field, and get more recognition and support from customers. We sincerely look forward to your consultation, we would like to be a member of you, solve your needs, win-win cooperation! If you want to order office furniture, welcome to
contact us
.