How to Set Up an Effective Training Room?
Share
Issue Time

2023/04/27
Summary
Proper training room furniture layout can greatly increase the productivity of everyone using the space. Read on to learn how to set up an efficient training room.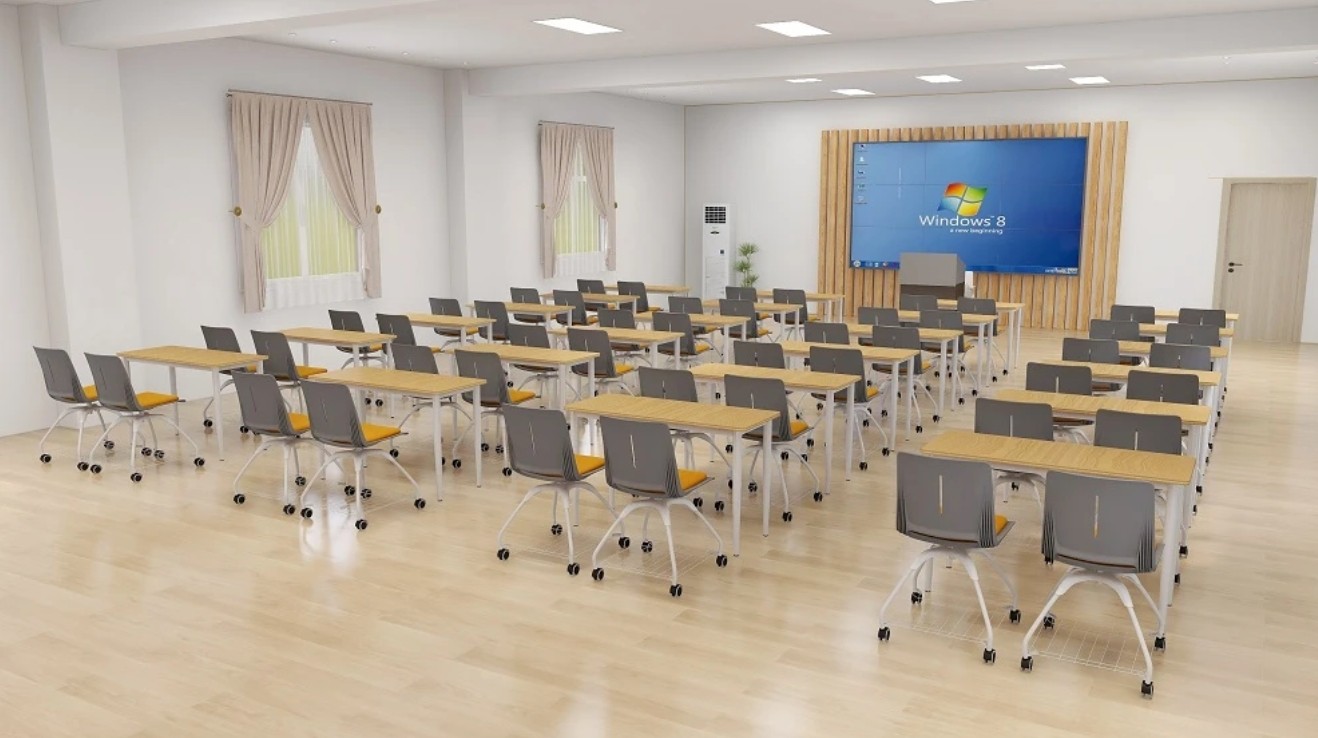 Whether your training room is large or small, proper furniture layout can greatly increase the productivity of everyone using the space. There are several common training room layouts, and the one you choose for your business should depend on how many people you need to accommodate and what type of learning will be used.
Remember that the seating arrangement you choose should allow everyone in the room to easily see and hear the instructor clearly and allow for easy discussion between individuals and the instructor. Make sure everyone in the room can leave their seat at any time without disturbing the rest of the class.
Space out furniture so individuals and their chairs do not come into contact with any furniture or those around them. However, having everyone seat close enough to feel a sense of togetherness allows them to feel comfortable asking their neighbors questions. The two most common training room layouts meet all of these needs.
Classroom Style
In this style,
training
chairs
and tables
are set up in rows facing the front of the room where the speaker will be speaking. This layout is ideal for training sessions that need to accommodate large numbers of people for lecture-based learning.
Make sure rows of tables are about 3 feet apart. This arrangement allows for a comfortable flow of traffic when classes are over, and fire codes require sidewalks to be at least 3 feet wide for safety in an emergency. DINGYOU Office Furniture also recommends leaving at least 5 feet of space at the front of the room so that presenters have enough room to work.
Conference
The second most common type of training room layout is the conference style, which can be round, square, or rectangular. In this arrangement, all training session participants face the open center of the "circle".
While a classroom-style arrangement is best for lecture-based courses, a conference-style arrangement is better suited for courses that are highly group discussion-based. Collaborative design enables participants to easily see and hear each other, making conversation easier.
Design Flexibility
Of course, you can still get the best of both worlds if your training room uses a mix of lectures and group discussions. At DINGYOU Office Furniture, we offer a wide range of mobile and modular training room tables and chairs, allowing you to easily rearrange your space in any of these configurations. Nesting furniture is easier to use because it allows you to rearrange multiple tables and chairs together. If you are looking for flexible training room tables and chairs, welcome to
contact us
.
Dingyou Office Furniture is a professional
custom office furniture manufacturer
. Founded in 2004, it mainly produces training tables and chairs, mainly intelligent classroom splicing tables and chairs, which can be applied to schools, governments, enterprises, training institutions, and other scenarios. Persist in participating in office and school industry exhibitions every year, focus on products in one field, and get more recognition and support from customers. We sincerely look forward to your consultation, we would like to be a member of your solution to the needs, win-win cooperation!