How the Right School Furniture Can Help Students Succeed in the Classroom?
Share
Issue Time

2023/05/18
Summary
School furniture can affect how well students learn. We'll take a closer look at how your choice of classroom chairs affects students, their ability to focus, and ultimately, their grades.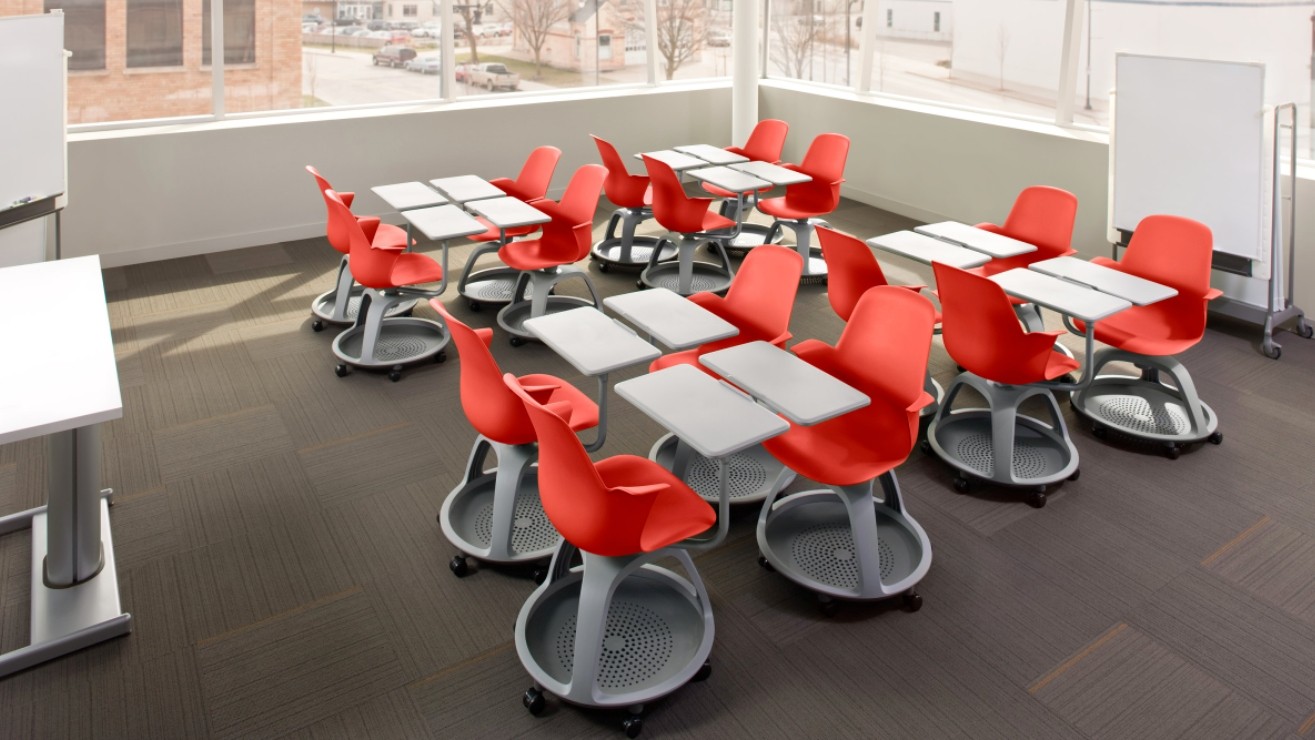 If you work in education, have you considered the role school furniture can play in student success?
It stands to reason that if students feel comfortable and supported, then they will be more alert and engaged with what is going on in the classroom.
We'll take a closer look at how your choice of classroom chairs affects students, their ability to focus, and ultimately, their grades.
Proper School Furniture Has a Positive Impact on Learning
School
furniture can affect how well students learn.
School chairs
and
desks
that are lightweight and easy to use are the best choices because they allow students to transition easily between group activities.
This is because quality classroom furniture can lead to better performance by making students feel at home, relaxed, and open to learning.
It also helps students communicate and collaborate with each other, promoting team and collaborative learning. These are the fundamental skills any student needs to develop throughout their school career to be the most motivated learner they can be.
One Size Does Not Fit All!
In an academic setting, you should also know that one size does not fit all! We know that every child learns uniquely – as does their size, build, and height.
This is why you should choose adjustable desks and chairs for your students. If children are uncomfortable sitting on furniture that is too big or too small for them, they will not be able to fully focus on their tasks. As with office furniture, prolonged sitting on incorrectly sized school chairs can cause low back pain that can affect children's ability to learn.
In schools, ergonomically designed student chairs, stools, tables, and workstations can help promote good posture and prevent back pain.
Adjustable desks and student chairs allow children to sit comfortably and give them the freedom to focus on what is going on in class in a way that supports their growing bodies. It also means other students aren't distracted by their classmates moving around to find a comfortable spot, so everyone wins!
Stackable Chairs Create a Well-Designed Study Space
Well-designed, flexible, and welcoming spaces are the ideal foundation for a modern learning environment.
It's all about getting creative with the space you have available, and sourcing the most flexible furniture for your classroom, allowing you to maximize space - and learning opportunities!
One way to achieve this is by choosing stackable classroom chairs that can be easily stowed away when not in use. These sturdy and functional chairs are perfect for classroom study.
Features for a Variety of Academic Environments
Education experts agree that the ideal classroom has enough open space for movement.
The reasoning behind this rationale is that now we are more aware of different teaching and learning styles. For example, some students are "kinesthetic learners." This means they connect their learning with physical activity, so they learn best by moving around the classroom. Stackable student chairs allow you to open up this space to your students.
Sitting and moving can also benefit this type of learner. Introducing swivel chairs into the classroom can help you achieve this goal, allowing students to find the most comfortable, non-fixed position and allow them to learn in the most natural and efficient way.
Flexible, Adaptable School Furniture
As teaching becomes more flexible, so should the classroom environment. This extends to educational furniture, where features such as flexibility and adaptability become even more important.
As we have seen, adjustable chairs are essential to making students feel comfortable and supported in the classroom and facilitating learning.
An ergonomic student chair that can be flexibly adjusted to suit learning styles and individual student needs is the best choice. They are comfortable enough for students to sit for long periods of time and also promote good posture, which benefits them both in and out of the classroom. Look for features like air lumbar support and adjustable footrests to optimize comfort and utility.
Flexible classroom furniture also means that lightweight items can be moved easily, stacked to save space, and even folded to make the most of the available area.
This means spaces can be used for children of any age and a wide range of activities, whether they are sitting or involved in moving around the classroom.
Made to Last - And Look Good Too!
If you want to give students the best learning experience, school furniture should also have more functions.
It had to be functional enough to withstand the stress and strain of everyday use. Look for high-quality materials, such as engineered steel frames and hard-wearing fabric or vinyl upholstered seats, to ensure your educational furniture will last.
Wipe-clean surfaces are also necessary to ensure hygiene and infection control standards.
Not only should your classroom furniture be durable, but it should also complement your classroom decor. Creating an environment that students love and want to be part of is critical to their academic success.
So look for seating collections that offer a wide choice of colors and fabrics to create a stylish study space for your school, college, or university.
Supporting You and Your Students Every Step of the Way
If you want your students to reach their potential, they must feel comfortable and supported in every possible way. This applies to their learning spaces and environments, from primary schools and universities to libraries and technology laboratories.
By providing your students with flexible, adaptable, and comfortable school chairs, you are providing them with an environment suitable for learning and progress.
Want to learn more about how you can help your students reach their full potential by choosing the right classroom furniture?
Find the Perfect School Furniture at Dingyou Office Furniture
Dingyou Office Furniture offers a wide range of school and training chairs to suit a variety of learning environments, from classroom settings to libraries, and conference rooms. Our chairs are comfortable and durable, perfect for long hours in class or studying.
Dingyou Office Furniture's classroom chairs are designed to provide maximum comfort and support to help students stay focused and engaged in their studies. Available in a variety of styles and colors, Dingyou Office Furniture is the perfect chair for any study space. If you want to buy school chairs, welcome to
contact us
.
As a professional
custom school chair manufacturer
, Dingyou Office Furniture mainly produces training desks and chairs, smart classroom splicing desks and chairs. We focus on one product area and get more recognition and support from customers. We sincerely look forward to your consultation, we are willing to be a member of you, solve your needs, and achieve win-win cooperation!